IT STARTED WITH A STORY.
Our founder, Jim K1IR, didn't set out to start a nonprofit organization. All he wanted was to understand why his ham radio colleagues were losing their lives to apparently senseless tragedies. Over a short period of just nine months from late 2018 into 2019, he heard the stories of two tower-related deaths. Lost to falls from heights of 80 feet and 40 feet were fellow contester and friend, Rev. Paul Bittner W0AIH in October of 2018, and a few short months later, Joe Areyzaga K1JGA. In the wake of these tragic events, he felt compelled to investigate and try to determine whether these losses could have been prevented.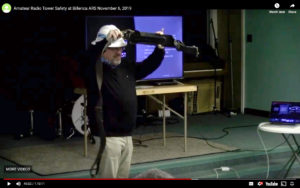 Jim presented his research at a New England convention in September of 2019 receiving an outpouring of positive responses from those who attended. In the months that followed, Jim responded to requests by local clubs to present his research at their meetings. A recording of one of those presentations was posted on YouTube so others could view it. Watch the original presentation.
BUT, IT WAS MORE THAN JUST A STORY.
Those stories of tragedy and serious injuries related to amateur radio tower work resonated with hams across the US and around the world. Soon, Jim was answering messages from every corner of the amateur radio community. Hams were revealing their own harrowing experiences and wanted to learn how to better protect themselves and how to prevent others in their community from becoming victims of such perils in the future.
Jim knew he had stumbled on a conversation that couldn't be ignored. In late 2019, the Zero Falls Alliance was formed to address all safety issues in the amateur radio community.
We were losing our friends. We had no choice. We had to act.
THE ALLIANCE NEEDS YOU
Our strength is our community. Join the alliance and help create a safer environment for all hams.